Web & Web Graphic Design by
Ilzé Linssen
.  © Copyright 2001.
All bears, bear desigs, photographs of bears, content and graphics on this site are protected by international copyright laws and may not be copied and/or reproduced without the express permission of Diane Bester of GiZMO BEARS, who reserves all rights. The re-use of any of the photographs and/or graphics on-line for any purpose is strictly prohibited.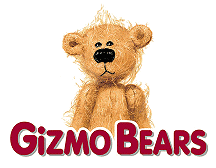 Shows:

I will be exhibiting at the HUGGLETS show, Kensington, London, UK

each February. Look forward to meeting all in the fur!!

Shops:

My Bears & Critters can also be found at the following shops:

BEAR PATHS

2708 Bridge Avenue,

Cleveland

OH 4413

U.S.A.

COOPERSTOWN BEARS

1275 Bush Parkway

Buffalo Grove, IL 60089

U.S.A.

BEARS BRUINS

#03-22 Plaza Singapura,

68 Orchard Road,

Singapore 238839,

Singapore.

BASICALLY BEARS

Crawley Falls Antiques - Rts. 125 & 111A

Brentwood

N.H. 03833

U.S.A.

GARDEN GATE TEDDY'S

PMB 218

3111 Route 38 #11

Mt Laurel

New Jersey 08054-9725

U.S.A.

THE BEAR NECESSITIES

3160 Long Canyon Rd.

Santa Ynez

CA 93460

U.S.A.

PUPPENHAUSMUSEUM

Steinenvorstadt 1

CH-4051 Basel