Web & Web Graphic Design by
Ilzé Linssen
.  © Copyright 2001.
All bears, bear desigs, photographs of bears, content and graphics on this site are protected by international copyright laws and may not be copied and/or reproduced without the express permission of Diane Bester of GiZMO BEARS, who reserves all rights. The re-use of any of the photographs and/or graphics on-line for any purpose is strictly prohibited.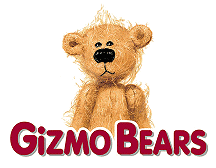 Thankyou so beary much for visiting.  The Bears, Critterns and I hope you have ENjoyed your stay as much as we loved having you!  If you have a minute to spare, please
sign My Guestbook
.  I would love to hear what you think about my site and/or my bears/critters or even if it just to say "Hi"!
Hugs - Di Bester